About Us
Spotfree Car Wash has been offering premium car care services for over 20 years.  We offer touch-free automatic bays and deluxe self-service bays at our conveniently located facilities in the Des Moines area.
Self-Service Bays
Spotfree self-service bays offer a wide variety of services to clean and maintain the appearance of your vehicle.  The bays accept cash, credit cards, Spotfree gift cards and Spotfree fleet cards.  All bays are cleaned and tested daily to ensure ease of use and are well lit for night time use.  Bays are open 24 hours a day and offer heated floors for winter use.
Touch-Free Automatic Bays
Spotfree touch-free automatic bays employ the newest sensor technologies and state of the art chemical products to provide the safest and best washing experience possible. Our equipment measures your vehicle and adjusts accordingly to wash a small sedan up to a full size crew cab truck. A variety of wash packages are available that offer everything from a basic wash up to RAIN-X premium paint protector. The bays accept cash, credit cards, Spotfree gift and fleet cards. Bays are typically open 7 days a week from 5 am – 2 am and offer automated doors with heated floors for winter use.
Vacuums and Vending
Our locations offer a variety of car care products such as vacuums, carpet shampoo, fragrance and vending items, including towels, window cleaner, Armor All® tire foam and protectant. Change machines are available for your convenience.
Fundraisers
Spotfree Car Wash offer programs for registered charitable organizations to raise funds for their causes. We donate wash packages for auction type fundraisers, or groups can choose to purchase discounted gift cards and sell them. Please contact us for more information.
TOUCH-FREE CAR WASH
The Ultimate Automatic Vehicle Wash
Offering Des Moines' discriminating car owners the ultimate automatic vehicle wash.
Fleet Accounts
Spotfree Car Wash offers commercial fleet accounts to companies looking for a convenient and affordable way to maintain the appearance of their vehicle fleet.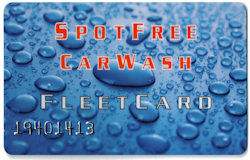 Gift Cards
We also offer pre-paid gift cards that can be used in our touch-free automatic and self-service bays.  Our gift cards are available in denominations of $25, $50, $75 & $100 with additional credit available.